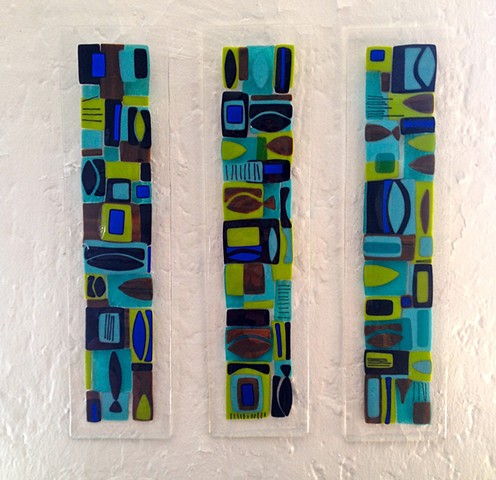 "Mid-Century Modern Totem" in Lime & Turquoise...

Three Panels, each panel costs $275; each panel is 24" x 6"
So, I love the Mid-Century vibe...the care-free use of color, the cleverly recognizable imagery, and the and the instant fun it brings to any room. I just gravitate to it when I find it somewhere. Well, so I'm playing in my studio with this concept and want to share what's been going on. Below is a new triptych I just finished. I love the color combination of the turquoise, lime, aqua, brown and black. I surrounded each one with clear so it is instantly understood as being glass. I also added some splashy blue dichroic glass in each one, to make it really pop. The $275 is for each panel.
You may also call me if you want a different color combination or size...305-304-0019