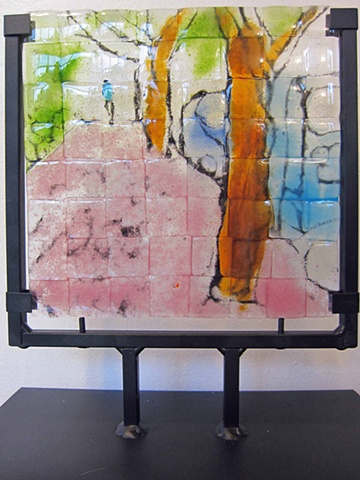 "21st Avenue in Pink..."

Details: 9x11
Glass in wrought iron standing frame

SOLD--but I can make you your own with this same theme :}

$300
"21st Avenue in Pink..."
Inspired by the city street of Portland, I'm constantly taking photographs on my iPhone. This piece happened right after the cherry blossoms fell from the street trees and blanketed the sidewalk. Freshly fallen, the blossoms had yet to be soiled by walkers. There was one walker ahead of me...not enough to disturb the blossoms too much. I created the checkerboard grid look to create that feeling of memory and how we have these little rounded off boxes of sights, sounds and smells in our brains to access, so we can remember those gorgeous times when our paths are covered in pink.
*This piece has sold but I can make you something similar :}*
PURCHASE HERE


You may always call me to order over the phone, at 305.304.0019. I always love to hear from you!
Thanks!