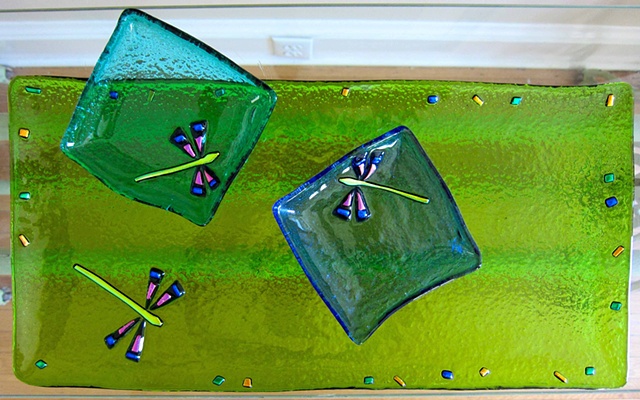 Dragonfly dishes
Details:
The Dragonfly 15"x8" rectangle platter is $60.
The 4.5" "snackers" are $24 each.
The whole set is $100.
Here is a new size in my dishes...This lime green rectangle platter is about 15" x 8", and adorned with dichroic "jewels" and one dragonfly in the left corner. Just right. I've paired this with a couple of dragonfly "snackers" (4.5" x 4.5") in complimentary colors of aqua and sky blue. It's a sweet gift for a bride or yourself! I can make these in any color combos, even just clear, so don't hesitate to let me know what you'd rather have.
Here are the other color choices available:
Click below to purchase just the platter:
PURCHASE HERE


Click here to purchase a dragonfly "snacker":
PURCHASE HERE


Click here to purchase the whole set:
PURCHASE HERE


**Please let me know what color(s) you want in the "instructions to merchant" section when checking out.
Thank You! Oh, and if you just want to call to figure out what colors you'd like, feel free! 305.304.0019, or e-mail me at mosheapdx@gmail.com. :}